85%+ of all ROs can be opened and completed with our new KPI Program, the Pillars of Success.
Get automatic tire scans sent to the customer and opened in the RO before your greet customers.
Complete the check-in inspection and
Streamlined Workflows for Service Advisors & Customers
With UpdatePromise's Tablet Vehicle Check-In, you'll be able to:
Build trust with your customers

Review a List of Booked Appointments for the Day

Access a Client's Vehicle Service History

Recommend Previously Deferred Services

Recommend Items on your Dealer's Customized Service Menu

Begin the MPI Process on the Drive



Creating a great consumer experience the moment you greet your guests in their vehicle can be instant.
UpdatePromise allows you to check your customers in and complete the inspection on a tablet directly on the service drive, and all without asking customers to leave the comfort of their vehicle.
Access everything you need to complete a vehicle check-in with your tablet and on one screen!
Schedule a Demo to Learn More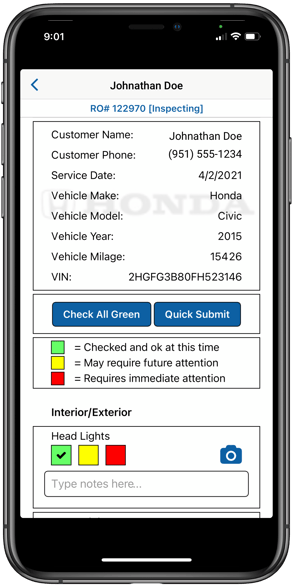 Begin filling out portions of your OEM Multi-Point Inspection form to save your technician time and extra labor.
Build Trust and Retention

Check your guests in and save your technicians time by starting the MPI form electronically AND attach Videos and Photos to demonstrate repairs, dings, or scratches!